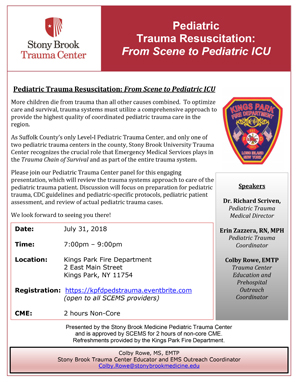 EMS Pediatric Trauma Resuscitation Seminar: From Scene to Pediatric ICU
More children die from trauma than all other causes combined. To optimize care and survival, trauma systems must utilize a comprehensive approach to provide the highest quality of coordinated pediatric trauma care in the region.
As Suffolk County's only Level-I Pediatric Trauma Center, and only one of two pediatric trauma centers in the county, Stony Brook University Trauma Center recognizes the crucial role that Emergency Medical Services plays in the Trauma Chain of Survival and as part of the entire trauma system.
Please join our Pediatric Trauma Center panel for this engaging presentation, which will review the trauma systems approach to care of the pediatric trauma patient. Discussion will focus on preparation for pediatric trauma, CDC guidelines and pediatric-specific protocols, pediatric patient assessment, and review of actual pediatric trauma cases.
Date: Tuesday, July 31, 2018 | Click to view flyer
Time: 7:00 -9:00PM
Location: Kings Park Fire Department, 2 East Main Street, Kings Park, NY 11754
Speakers:
Dr. Richard Scriven, Pediatric Trauma Medical Director
Erin Zazzera, RN, MPH, Pediatric Trauma Coordinator
Colby Rowe, MS, EMTP, Trauma Center Education & Prehospital Outreach Coordinator
Refreshments provided by the East Hampton Volunteer Ambulance Association.
Note: This continuing education program is presented by the Stony Brook Medicine Pediatric Trauma Center and the East Hampton Volunteer Ambulance Corps, and is approved by SCEMS for 2 hours of non-core CME.

---