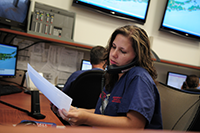 Because more than 300 trauma and emergency patients a month get transferred to the Stony Brook Trauma Center, we have established a patient transfer center that offers a single point of contact to streamline the process. With one number, one call and one contact, transport services are easy to schedule — and, more important, available 24/7.
Here's how it works.
The referring physician calls (631) 444-1911 to request a patient transfer to Stony Brook Trauma Center.

The Stony Brook Transfer Center is staffed 24/7 by trained EMS personnel who have expertise in coordinating the transfer of patients. The referring physician is conferenced with the appropriate Stony Brook physician who discusses the case and arranges for acceptance of the patient.

All ambulances are equipped with a critical care paramedic and supplemental staff are added to the transport team based upon the patient's clinical condition.

For neonatal and pediatric patients (including pregnant women in fetal distress), Stony Brook sends a specialized transport team that, depending on the patient's condition, can include physicians, nurse practitioners, neonatal intensive care nurses, respiratory therapists and critical care emergency nurses.
While the patient is en route to the hospital, Stony Brook's trauma team prepares for the patient so they can immediately and seamlessly address the most critical issues upon arrival.
In some cases, patients may need to be transported to Stony Brook via helicopter. We operate a MediVac air transport service in partnership with the Suffolk County Police Department and have a helipad adjacent to the Emergency Department. The helicopter is piloted by a Suffolk County police officer and staffed at all times by a Stony Brook paramedic. Like our ground transport, it is available 24/7.
Click here to view our Guidelines for Referring Physicians.