Teddy Bear Clinic Schedule
School Year 2017-2018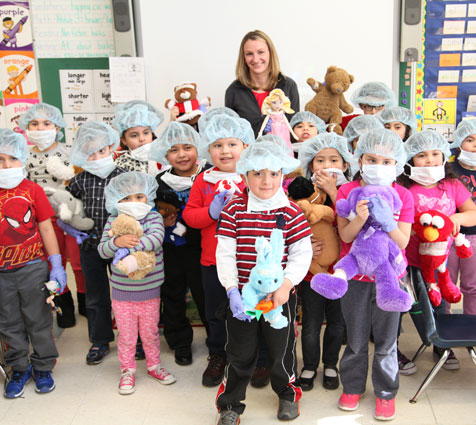 Our "Teddy Bear Clinic" is a free injury prevention program for children,
sponsored by the Trauma Center at Stony Brook Children's Hospital (SBC).
We cover safety topics on car and helmet safety in a fun and interactive
way before letting the children dress up as doctors and nurses and
"take care" of their injured stuffed animals.
Connetquot
Bosti 3/15/2018
Cherokee 10/24/2017
Duffield 2/13/2018
Idle Hour 4/17/2018
Slocum 2/12/2018
Comsewogue
Norwood 3/27/2018
Copiague
Great Neck Road 11/28/2017
Deer Park
John Q. Adams Primary 3/6/2018
May Moore Primary 3/20/2018
Hauppague
Bretton Woods 1/30/2018
Kings Park
Fort Salonga 1/23/2018
Park View 1/12/2018
Lindenhurst
William Rall 10/5/2017
Longwood
West Middle Island 5/22/2018
Manorville
South Street 1/16/2018
Miller Place
Andrew Muller 2/6/2018
Sachem
Chippewa 3/26/2018
Grundy 1/18/2018
Hiawatha 3/12/2018
Lynwood 2/7/2018
Nokomis 2/27/18
Waverly 5/7/2018
Wenonah TBD
Sayville
Cherry Ave 4/30/2018
Smithtown
Accompestt 12/5/2017
Dogwood 10/10/2017
Mt. Pleasant 1/11/2018
Tackan 1/17/2018
Three Village
Arrowhead 10/10/2017
Nassakeag 11/29/2017
Setauket 2/28/2018
Riverhead
Aquebogue 5/10/2018
Roanoke 2/9/2018
South Huntington
Countrywood Primary Center 5/15/2018
Westhampton Beach
Westhampton Beach 5/14/2018
Private Schools
Lutheran Day School 2/1/2018
Northport Christian 5/21/2018
Park Shore Day Camp 4/17/2018
Southampton Montessouri 4/13/2018
St. Martin of Tours 5/8/2018
If you are interested in scheduling a Teddy Bear Clinic for your school, please call 631-444-8385
We had so much fun we with News 12's Ken Grimball at Roanoke Avenue Elementary School!