Teddy Bear Clinic Schedule
School Year 2018-2019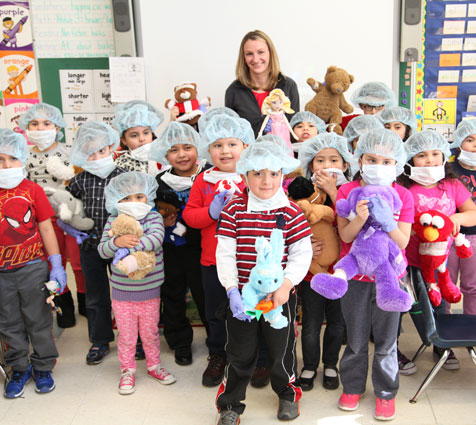 Our "Teddy Bear Clinic" is a free injury prevention program for children,
sponsored by the Trauma Center at Stony Brook Children's Hospital (SBC).
We cover safety topics on car and helmet safety in a fun and interactive
way before letting the children dress up as doctors and nurses and
"take care" of their injured stuffed animals.
We are now accepting program requests for the 2018-2019 school year.
Please SUBMIT YOUR REQUEST for a program here.
Bayport-Blue Point
Academy Street TBD
Central Islip
Cordello 11/29/2018
Copiague
Deauville Gardens East 11/20/18

Connetquot
Bosti 2/12/2019
Duffield 10/23/2018
Idle Hour 2/15/2019
Slocum 10/25/2018
Comsewogue
Norwood TBD

Deer Park
John Q. Adams Primary TBD
May Moore Primary TBD

Longwood
West Middle Island 4/2/2019

Miller Place
Andrew Muller 2/5/2019
Port Jefferson
Edna Louise Spear TBD
Sachem
Grundy TBD
Lynwood 1/16/2019
Nokomis 11/13/2018
Sayville
Cherry Ave TBD
Smithtown
Dogwood 10/16/2018
Three Village
Setauket 2/28/19
Riverhead
Aquebogue 2/26/2019
Roanoke 2/1/2019
South Huntington
Country wood Primary Center TBD
Westhampton Beach
Westhampton Beach 5/17/2019
William Floyd
Tangier Smith Elementary TBD

We had so much fun we with News 12's Ken Grimball at Roanoke Avenue Elementary School!