Suffolk County Police Officer Leaves Stony Brook to Continue Treatment at Rehabilitation Facility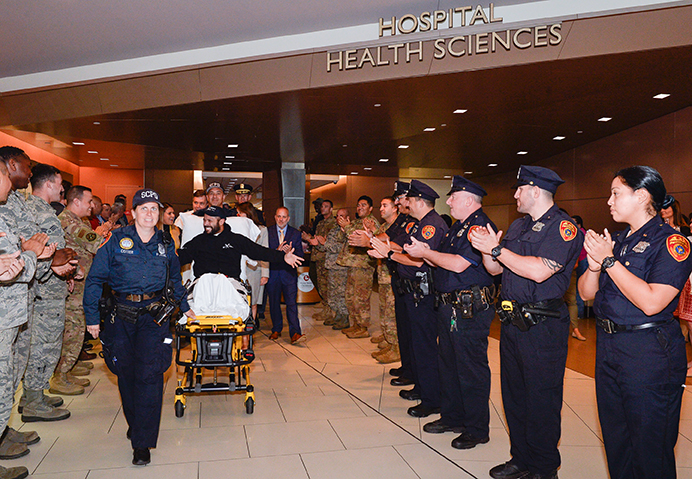 Surrounded by his family and his brothers and sisters in blue, Suffolk County Police Officer Christian Vidal left Stony Brook University Hospital on Sept. 27 to continue his treatment at a rehabilitation facility.
Described as a hero by many, Officer Vidal is a veteran, having served three tours in Iraq; he actively serves in the Reserves; and was also a New York City Police Officer before coming to the Suffolk County Police Department.
On Sept. 1, Officer Vidal sustained serious injuries as a result of an on-duty motor vehicle crash. He was driving north on Fifth Avenue in Bay Shore when a southbound vehicle veered into his lane and struck the officer's police vehicle head-on. The driver, who was intoxicated, was killed.
Officer Vidal was airlifted to Stony Brook University Hospital with a ruptured aorta, pelvic fracture and hip dislocation. He also developed acute respiratory distress syndrome (ARDS) because of the trauma and was on life support for two-and-a-half weeks.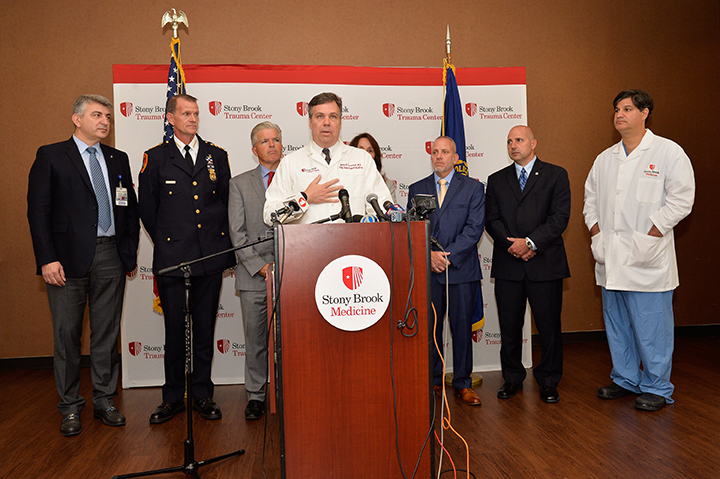 "Today is a good day," said James Vosswinkel, MD, Chief, Division of Trauma, Emergency Surgery, and Surgical Critical Care. "Today is the day we release Christian from Stony Brook University Hospital to rehabilitation so that he can hopefully have a full recovery."
Joined by Apostolos Tassiopoulos, MD, Chief, Division of Vascular and Endovascular Surgery, and Nicholas Divaris, MD, Division of Orthopaedic Trauma, Dr. Vosswinkel acknowledged the team effort of the doctors, nurses, respiratory therapists, physical therapists, EMS partners out in the field and the rehabilitation facilities, among others. "We're a team — we believe in being a team. We get up every morning for outcomes and cases like this."