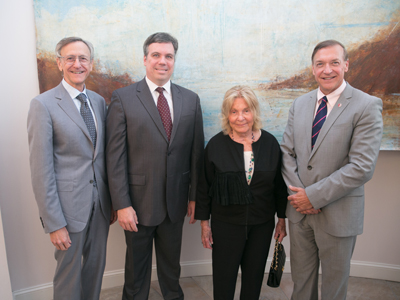 At an investiture ceremony held on Sept. 7, James A. Vosswinkel, MD, Chief, Division of Trauma, Emergency Surgery and Surgical Critical Care, was named the inaugural Lillian and Leonard Schneider Endowed Professor in Trauma Surgery.
The new endowed professorship position was created by Mrs. Lillian Schneider in memory of her late husband, Leonard Schneider, and in grateful recognition of the care she received from Dr. Vosswinkel.

"Chairs and professorships are one of the most prestigious and permanent investments that can be made at any university," said Stony Brook University President Samuel L. Stanley Jr., MD. "They are considered the hallmark of a great institution and give the University a competitive edge in recruiting and retaining hard-to-find specialists."

Kenneth Kaushansky, MD, Senior Vice President, Health Sciences, and Dean of the Stony Brook University School of Medicine, said the endowed professorship is a fitting commendation of Dr. Vosswinkel's leadership.

"When I think of Dr. James Vosswinkel," said Dr. Kaushansky, "one word comes to mind: dedication. He embodies energetic, driven leadership in the relentless pursuit of a world-class trauma system for Suffolk County."
Dr. Vosswinkel, who also serves as the Medical Director of both Stony Brook University Trauma Center and the Surgical Intensive Care Unit, was instrumental in overseeing Stony Brook's verification as a Level 1 Trauma Center by the American College of Surgeons. Stony Brook is Suffolk County's only Level 1 Trauma Center for both adults and children — the highest level of trauma care possible.
During the ceremony, Dr. Vosswinkel acknowledged the trauma leadership team and expressed his gratitude to Lillian Schneider and her family. He noted that thanks to the generosity of the Schneiders, the research efforts designed to further advance the trauma care at Stony Brook will continue in perpetuity.
"The professorship will have a profound effect on advancing our mission," said Dr. Vosswinkel, "including programs training EMT volunteers, lifesaving hemorrhage control training in public school districts and other community outreach programs."

At Stony Brook, trauma care is truly a team effort. The Trauma Center is composed of a group of highly trained practitioners, providing 24/7 access to in-house, board-certified, critical care and general surgeons and specialists, for immediate treatment of even the most traumatic and complex injuries.
Stony Brook Trauma Center also participates in a national quality program with more than 300 other trauma centers nationwide. Based on its patient outcome results, Stony Brook consistently ranks in either the top 10 percent or top 20 percent nationally for high trauma survival rates and low rates of major complications.
Each year nearly 15,000 adults and children with traumatic injuries come to the Trauma Center. Nearly 2,000 of these patients have moderate to severe, often life-threatening, injuries. As Suffolk Country's only adult and pediatric Level I Trauma Center, Stony Brook is uniquely qualified to deliver the most advanced world-class, lifesaving care to the region's residents and visitors.