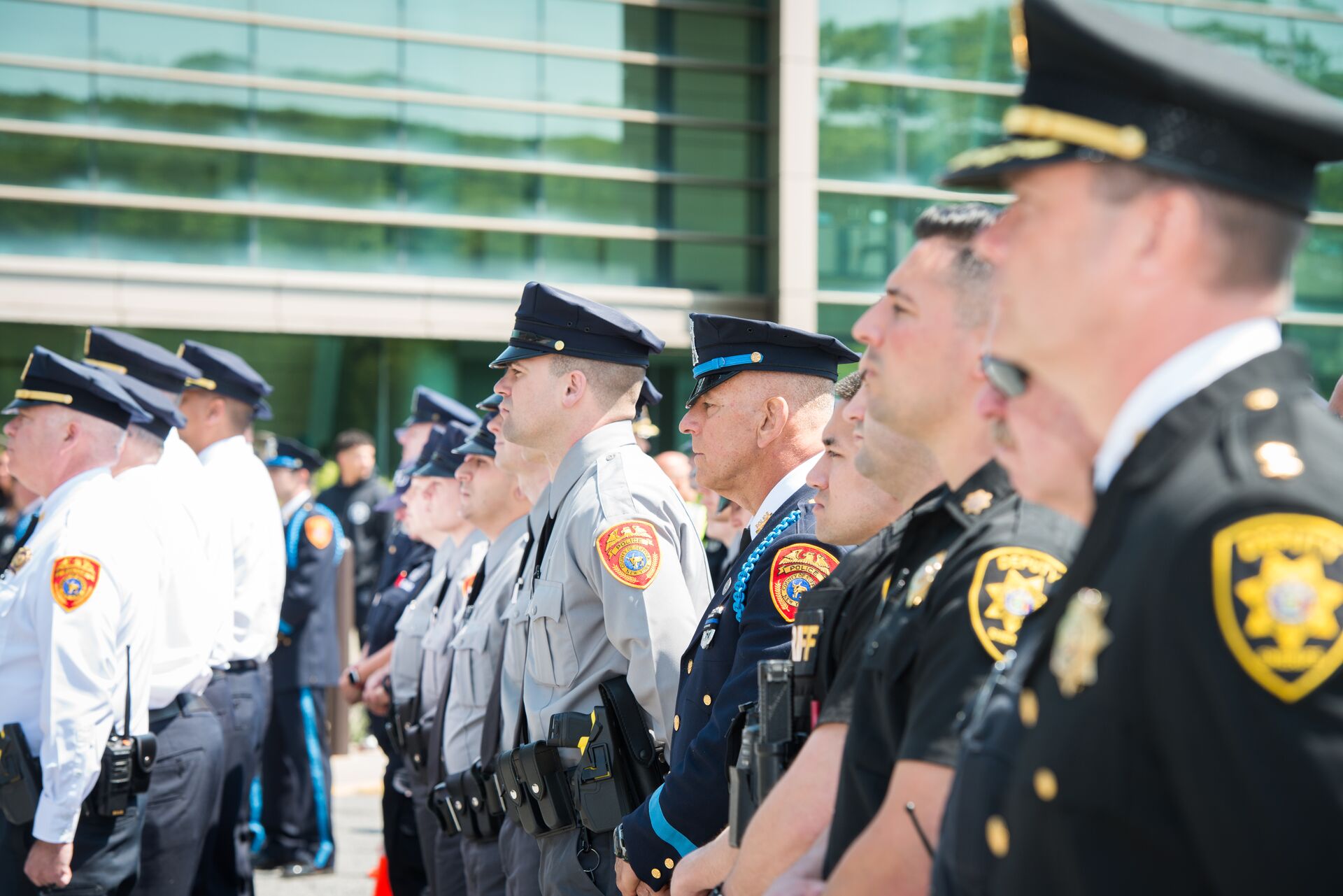 As hundreds of well-wishers looked on, Sixth Precinct Officer Michael LaFauci, who was shot in the line of duty last week, was released from Stony Brook University Hospital on May 18 at 11 am. Among those cheering for him at a news conference were Stony Brook University Hospital Chief, Division of Trauma, Emergency Surgery, and Surgical Critical Care Dr. James Vosswinkel, who performed emergency surgery after a bullet tore through the officer's right thigh on May 11 during a robbery investigation in Coram. Officer LaFauci left the hospital in a wheelchair with his fiancée, who is a Stony Brook Medicine EMT, and their 17-month-old daughter at his side.
Dr. Vosswinkel explained that a 9 mm hollow point bullet went through the officer's right thigh into the right side of his pelvis, crossed over to the left side of his pelvis, and was lodged under the skin in the middle aspect of his left buttocks. "This is a bullet that is designed to do maximum damage, and we're discharging him today," he said. "That's a lot more than medicine can do. That's an angel looking out for him. And not to use or understate a word, it's miraculous."
But he said it also took a team, from the Suffolk County Police Department Medical Crisis Action Team (MEDCAT), that provided emergency care given on the scene and in transport, to his emergency medicine colleagues — the doctors and nurses in our ER and his fellow surgeons. "They were all in place to save Mike's life. I took Mike to the OR to ensure there was no further hemorrhage, to explore for additional injuries," Dr. Vosswinkel said. "By the grace of God, there wasn't significant injury there from a hollow point bullet. That's why we can discharge Mike today."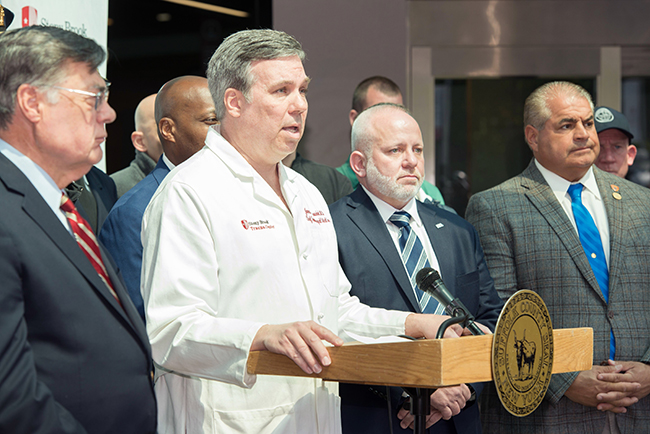 He acknowledged that Officer LaFauci has a long recovery. "Mike's right leg is still partially paralyzed. We are hoping and praying that he makes a full recovery, but right now I cannot say with medical certainty he will. There are still additional complications that we are going to pay very close detail to. He will be under our observation, and he will have to go through significant therapy to regain, hopefully, all of his strength."
Joining Dr. Vosswinkel at the press conference were Suffolk County Executive Steve Bellone, Suffolk County Police Commissioner Rodney K. Harrison, and Suffolk County Police Benevolent Association President Noel DiGerolamo. All said that the fact that Officer LaFauci was able to leave at all was due to the quick responses of the medical personnel. Harrison addressed Dr. Vosswinkel, thanking him for helping to save the lives of other officers, including Mark Collins, Nicholas Guerrero, Raymond Stock, Brendon Gallagher, Timothy Thrane, Christopher Racioppo and Christian Vidal.
Dr. Vosswinkel acknowledged that there are too many emergencies like this one.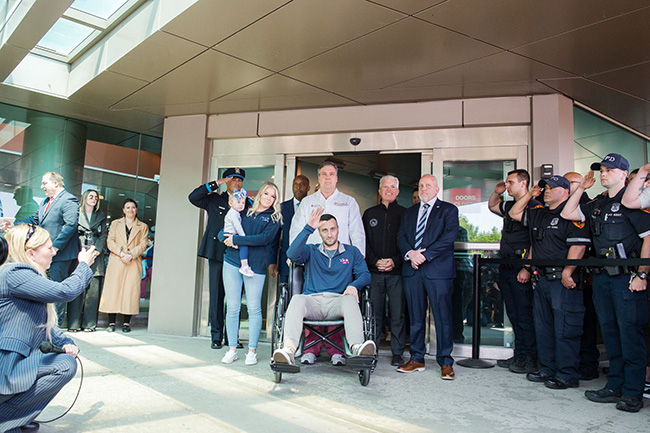 "What happened exactly one week ago shouldn't happen," he said. "While I appreciate all the accolades, it's what law enforcement does for us every day, out there risking their lives, their wellbeing, and their families' wellbeing for us. As a civilian, anything myself, and the staff at this hospital can do to support them in a moment's notice, 24/7, we're here."
Bellone thanked all the members of the Suffolk County Police Department for what they do every day to keep the community safe, as well as Stony Brook University Hospital, including the doctors, nurses, staff, CEO Carol Gomes, Emergency Room Medical Director Dr. Robert Schwaner, and especially Dr. James Vosswinkel. Bellone said, "There are too many days when I have to see this doctor. But every time I do, fortunately it's always ended with a day like this, for which I will always be grateful for the team at Stony Brook."