Critically injured officer released from hospital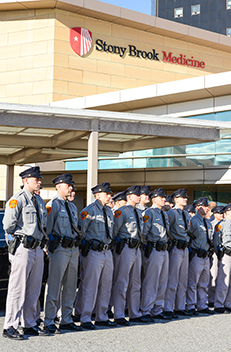 Outside in the bright sunshine, he waved to rows of police officers who stood at attention and saluted him. Family members lifted Tim's three children up to him for hugs and kisses. Wellwishers shouted out "Timmy!" Everywhere there were people wearing big smiles and sweatshirts with the message "Thrane Tough."
Seeing Suffolk County Police Officer Timothy Thrane wave to a cheering crowd as he was released from Stony Brook University Hospital Dec. 3, it was hard to believe he came close, more than once, to losing his life.
Just after midnight on Nov. 3, Officer Thrane was in the field doing his job, setting out flares to light the darkness for motorists on the William Floyd Parkway. An SUV driver pulled over to ask him a question. That's when someone allegedly driving while impaired slammed into the SUV, which struck the 35-year-old officer.
The impact fractured his skull and tore open an artery that started rapidly bleeding inside his skull. Unless this bleeding – known as an epidural hematoma – is identified and treated quickly, the result will be fatal. Fortunately for Tim Thrane, he was rushed to Stony Brook's Level 1 Trauma Center.
Dr. Michael Egnor (with assistance from Bryan Bobrowski, P.A. in neurosurgery) opened Tim's skull and stopped the bleeding, which saved his life.
But his course of treatment wasn't over. Dr. James Vosswinkel, standing by when Tim was released from the hospital, said that Tim suffered Systemic Inflammatory Response Syndrome from the trauma he sustained. "His immune system attacked his lungs, which resulted in Acute Respiratory Distress Syndrome" said Dr. Vosswinkel, Chief, Division of Trauma, Emergency Surgery and Surgical Critical Care in the Renaissance School of Medicine at Stony Brook University. "Tim was very critically ill and required the most advanced care modern medicine can provide." At the same time, hospital staff also were caring for Tim's other injuries – damaged spinal ligaments in his neck, a broken shoulder and hand, and injured ligaments in his left knee.
After three-and-a-half weeks on a ventilator and in a medically-induced coma, Tim's lungs were healed enough to remove him from the ventilator. Despite his neurological injury and everything else he had been through, "when he woke up, Tim was Tim, which was incredible," said Dr. Vosswinkel. "He's completely neurologically intact."
Positive outcomes like the one experienced by Tim and his family are the goal at Stony Brook's Level 1 Trauma Center. Level 1 is the highest designation for trauma centers, indicating that the most advanced care is available for injured patients.
Level 1 centers like Stony Brook provide around-the-clock access to in-house (as opposed to on-call), board-certified critical care specialists and trauma surgeons. Having this in-house expertise available 24/7 means immediate treatment of all types of traumatic and complex injuries.
Stony Brook trauma patients are cared for by teams of doctors, nurses, and many other practitioners from different medical disciplines, working closely together. In Tim's case, credit also is due to the quick actions of paramedics and emergency medical services at the scene. "From the time that Tim was hurt, he was here at the hospital in 30 minutes," Dr. Vosswinkel said. "I cannot overestimate how important that is, when someone sustains life-threatening injuries."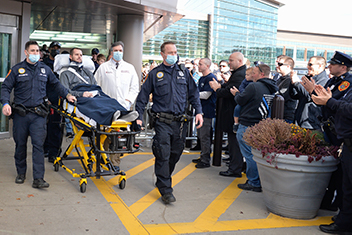 Tim was wheeled through the hospital lobby with his wife by his side, taking in cheers and applause from the hospital staff who have become part of his journey back to life.
Tim is not the first Suffolk County police officer saved by Stony Brook's Trauma Center. Officers Mark Collins, Nicholas Guerrero and Christopher Racioppo all have been injured while on duty and were treated at Stony Brook. They were there with Tim to give encouragement and support.
Tim will be working with a rehabilitation facility to help his body continue to heal. But first there was a celebration of his progress and his release from the hospital.
Tim was wheeled through the hospital lobby with his wife by his side, taking in cheers and applause from the hospital staff who have become part of his journey back to life.
Outside in the bright sunshine, he waved to rows of police officers who stood at attention and saluted him. Family members lifted Tim's three children up to him for hugs and kisses. Wellwishers shouted out "Timmy!" Everywhere there were people wearing big smiles and sweatshirts with the message "Thrane Tough."
And as the Suffolk County Police Emerald Society Pipes and Drums played, "When the Saints Go Marching In", Tim Thrane bid farewell to the trauma team who saved his life.